Performance Transport has become synonymous with high quality and reliable frac sand hauling and oil field transportation services. Recently, we have expanded our heavy haul services to cover non-oilfield related projects for all 50 states and into Canada – drawing on our experience hauling heavy loads throughout the Bakkan Oil Fields. We specialize in Super Loads, so there is no limit to what we can haul for you. We have moved every type of heavy equipment imaginable, from military equipment, to transformers, to rockets!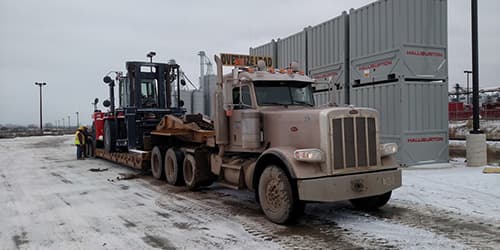 Why We Have an Advantage in Heavy Haul Trucking
Working in the Oil Fields is a high stress environment where late delivery is simply not an option. A late load can cost tens of thousands of dollars an hour while an idle frac crew sits around waiting for it to show up. Our dispatch team is used to working in this high pressure, high stakes environment – and it is that experience which gives us a huge advantage in the heavy haul trucking industry.
Aside from our exceptional transportation speed and efficiency, we do all of our permitting in house. There is no bigger headache in the heavy haul trucking industry than waiting on permits. Most carriers use permitting companies with huge wait lists, and often find themselves stuck somewhere, wasting time. At Performance Transport, we always do our own permitting, even at times when we have to broker out a load due to high volume.
Moreover, there is nothing worse for a customer than having a broker commit to a load and then having to depend on a third party to deliver on the broker's promises. We aim to avoid that, and so our transportation company never just depends on a carrier to deliver as promised, but we manage the carrier in all aspects of the load to ensure fast, efficient, and quality heavy haul trucking.
Additionally, we select only the best drivers from our oil field logistics to drive as part of our heavy haul logistics division ensuring the most dependable and reliable service. Learn more about our Performance Elite Driver Recognition Program and how this sets our drivers apart here.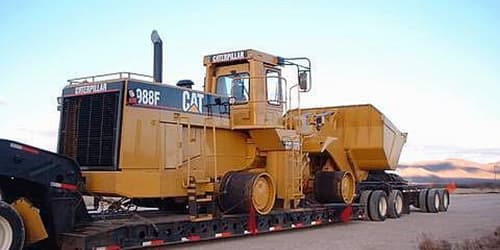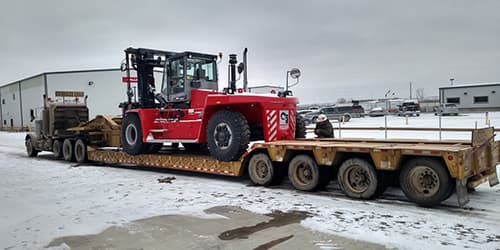 Learn More About Our Heavy Haul Trucking Services
If you need to haul heavy equipment, you want a company that has experience in a fast-paced work environment with little room for error. After years of hauling every type of equipment imaginable in the Bakkan Oil Fields, our team can provide just that. At Performance Transport, we do everything possible to ensure quick, efficient, and safe delivery of your heavy load.
Are you ready to work with a heavy haul trucking company that has your best interests in mind? Reach out to us today online or by phone to learn more about our heavy haul trucking services and all of our transportation logistics solutions for any sized business.